GoCar launches new fleet of electric automatic BMWs worth €50,000!
General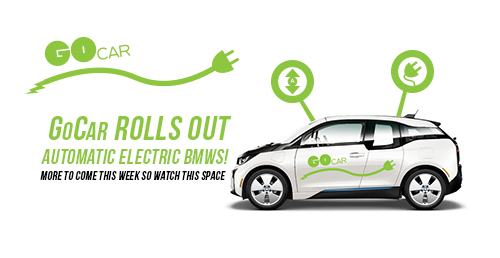 GoCar launches Electric fleet!
Ireland's leading car sharing company GoCar today launched its new GoElectric range, consisting of a fleet of 10 BMW i3 electric cars. This expansion of the GoCar fleet gives members the chance to drive in the luxury of an automatic BMW with the totally unique experience of zipping through Dublin in an ultra-nippy electric vehicle. With the electric i3, the full BMW power is available instantly from standstill, from the very first touch of the accelerator pedal, making it incredibly agile around the city centre. This is the future of driving, and it's now available to GoCar members on a pay-as-you-go charge with no monthly fees.
The launch of the GoElectric BMWs is the next step for GoCar in promoting a more convenient and environmentally friendly way to drive in Dublin. Research carried out earlier this month showed that GoCar has removed upwards of 2000 cars from the streets and parking spaces of Dublin city, and now they have their eyes on reducing CO2 emissions too. GoCar  understand that there is a way to go with education on the electric vehicle front, and have supplied a user guide with each BMW. Each trip comes with 50 free kms included and anything over 50 kms is charged at a discount rate of €0.25 per km. 
GoCar are now giving Irish drivers the chance to drive and live with an electric, without the upfront commitment of buying one. The hope is that this will allow members to try out electrics, and if users flock to these models, then more will be added to the service. This also brings the added benefit of convincing drivers that electrics are the future of driving, and finally increase electric vehicle usage in Ireland. With numerous incentives due to be brought forward by the Government to encourage the use of electrics, GoCar and their users are poised to strike while the iron is hot! With hundreds of Dubliners joining GoCar every month, we're also thrilled to be rolling BMWs out, to give our members another quality driving option without the hassle of dealing with insurance, tax, fuel, NCT, and everything else involved with owning a car! These automatics are ideal for city driving, and with virtually no engine noise and incredible agility, getting behind the wheel of an electric is like nothing you've experienced before.
GoElectric bases will be situated at the following locations across the city: Point Village 3 Arena; South Lotts Road; Mark Street; Merrion Square; Clifton House Fitzwilliam Lower; Greek Street; St Johns Road West; Ranelagh; Parnell Square; Earlsfort Terrace. Each of the 10 designated bases will be equipped with two electric charge points to facilitate efficient battery recharging for users.
We're concerned about climate change, and GoCar users are concerned about this too, so we're glad to be doing our part to reduce CO2 emissions, and we hope Dubliners will row in behind this effort. The launch of our GoElectric range is a fundamental step in our continued mission to offer a convenient and environmentally friendly alternative to car ownership and I am confident that we will continue to innovate and progress this mission going forward.