GoCar allows you to rent cars for as little as an hour, using a booking system to reserve the vehicle and in-car technology to unlock the car and drive. We have over 800 cars & vans available across Ireland with a vast majority within the greater Dublin area.
A GoCar for Business account provides companies with the freedom and flexibility of owning a large fleet without the capital investment. There are no monthly fees so you will only be charged for what you use. The process is simple:
Create Company Account
Want more information?
Our Account Managers are waiting to help.

Make a booking
Once you're signed up and your driving license has been verified all you have to do is book the car you want for the time you need.

Unlock your GoCar
When it's time for your trip, arrive at the car and unlock it using our app

GRAB the keys
The keys are waiting for you in the glovebox of the car. They are attached to a keypad, if you're stopping during the trip, just lock the car using the key, and take the key with you.

Drive
Drive the car as normal, if you're stopping during the trip just take the keys with you. Remember, parking in Dublin City Council pay & display spots is completely free.

Return to base
To end your booking simply return the car to the area where you picked up and park it legally, the app will instruct you to lock the car and you're done!

Administration made easy
Check invoices easily and manage employees with our administrator profile.

mobility from €10/hour
With GoCar car sharing you benefit from our affordable pay as you go rates. No fixed costs, just pay for what you use.

transparent monthly invoice
Confusing travel expenses are a thing of the past. Keep a clear overview of all employee bookings.

support in every situation
Our capable customer support is available for you if you need it.
EXAMPLE
business trip from dublin city centre to sandyford 11km each way, 30min driving time, approx 2h stay, approx 3h total
Taxi
€20-30 / trip
in total (return trip)
€40-€60
GoCar
GoCity rate

in total (return trip)

€27


Our Rates*
* each trip includes 50km free, kilometers over 50 charged at €0.50 per km. gofar long distance journeys €0.20 per km available for bookings over 6 hours.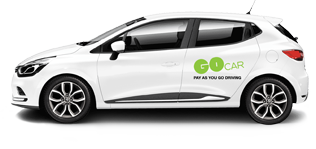 GoCity
Hyundai i20
Nissan Micra
Renault Clio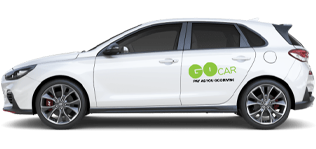 GoTripper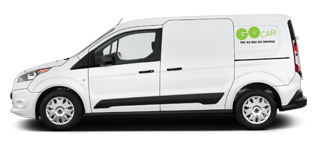 GoVan
Ford Transit Connect
Citroen Berlingo
Renault Kangoo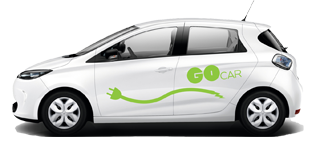 GoElectric
Renault ZOE
Nissan Leaf €12/hour
Kona Electric €12/hour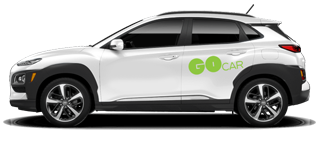 GoExplore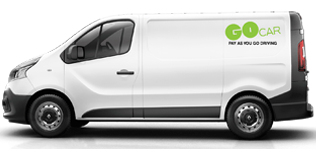 GoCargo
Ford Transit Custom
Renault Trafic
With over 800 vehicles across the country we can get you where you need to go. Basic insurance included, additional cover (€250 excess) available for only €2.40 per hour/€100 annual fee. Fuel is included, each car has a Circle K fuel card inside.